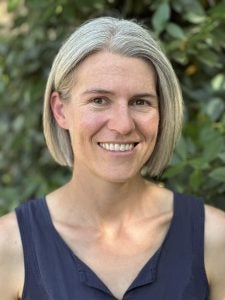 Rachel Vannette
Associate Professor 2021-current

Assistant Professor 2015-2021
Department of Entomology and Nematology, University of California, Davis
Postdoc 2011-2015 Stanford University, Department of Biology, Life Sciences Research Fellow
Ph.D., University of Michigan, Ann Arbor, Department of Ecology and Evolutionary Biology, 2011
B.S. Biology, Calvin College, 2006
Awards:
UC Davis Chancellor's Fellow 2023-2027
NSF CAREER Awardee 2019-2024
Hellman Fellow 2019
Life Sciences Research Fellow 2012-2015
Postdoctoral scholars
Jacob Cecala, USDA Postdoctoral Fellow 2021-current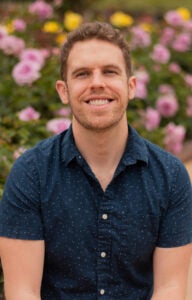 Ph.D. University of California, Riverside 2021
M.S. California State Polytechnic University, Pomona 2015
B.S. California State Polytechnic University, Pomona 2012
Jake Cecala is a community ecologist interested in wild, native bee species and their interactions with cultivated plants in urban and agricultural areas. For his doctoral work, he investigated how commercial plant nurseries in California function as habitats for wild bees. As a member of the Vannette lab, Jake is studying how insecticides and drought interact to affect floral microbial communities and crop pollination. His Google Scholar page.
Jacob Francis, Postdoctoral researcher 2020-current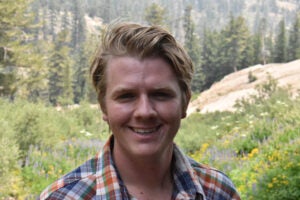 B.S: University of North Carolina at Asheville,                Ph.D. :University of Nevada Reno
Jake Francis is a behavioral and community ecologist interested in how pollinator behavior drives processes in co-flowering plant communities. For his doctoral work, he explored how floral reward nutrition shapes bees' foraging behavior with downstream effects on patterns of pollen movement among plant species. In the Vannette lab he plans to explore the intersection of plant, pollinator, and microbial ecology with a focus on how floral traits mediate these interactions.Google Scholar, Jake's Website.Jake is currently a NSF Postdoctoral Fellow co-advised with Dan Kliebenstein.He will start his lab at Florida Atlantic University in Winter 2024, congrats Jake!
Graduate students
Gillian Bergmann, PhD student in the Ecology Graduate Group (NSF Graduate Research Fellow, UC Davis Dean's Distinguished Graduate Fellow)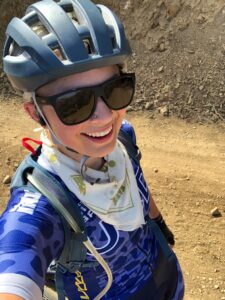 co-advised by Johan Leveau
twitter/instagram: @ingrid_blv426
website: gebergmann.weebly.com
Gillian is an ecologist interested in seed microbial community assembly. As an undergraduate at Oregon State University (OSU), she characterized the fungal communities of Douglas-fir seeds from throughout the Pacific Northwest and New Zealand. She went on to work as a lab technician at OSU, characterizing the wood fungal communities of Populus trichocarpa and assisting on various projects in the greenhouse and the field. As a PhD student at UC Davis, Gillian is investigating the spatial and temporal processes involved in microbial transmission from flowers to seeds. Her long-term goal is to apply a metacommunity framework to studying seed microbial community assembly across scales, with interests in plant-pollinator-microbe interactions and consequences for young plant health. Outside of science, she enjoys riding and racing her bike, baking, traveling, and spending time with her husband and cat.
Shawn Christensen, PhD Candidate in the Microbiology Graduate Group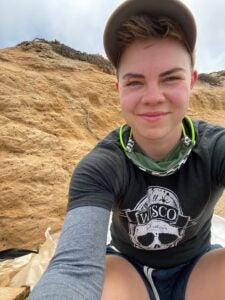 Email: smchristensen 'at' ucdavis 'dot' edu
Twitter: @pollenmicrobes
Shawn is an evolutionary biologist turned microbiologist, broadly interested in microbial interactions/symbioses with plant-pollinator systems, weird evolutionary traits, and crosswords. They obtained a BS from University of Wisconsin-Madison in Evolutionary Biology, where they did research on reducing ecological impacts of phosphorus runoff, ethnobotany and domestication traits in Brassica rapa, botanical field excursions of all kinds, and the evolution of chemical sets in the early origins of life. In the Vannette lab, Shawn is currently studying nectar-dwelling Acinetobacter and other nectar microbes and their potential influences on pollen for nutrient procurement, as well as the metabolomics of solitary bee pollen provisions.
Lexie Martin, PhD student in the Entomology Graduate group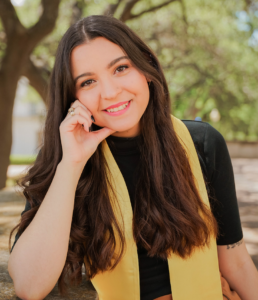 Lexie is an entomology PhD student interested in bumblebees and microbes. She received a BS in Biology (focus evolution, ecology, and behavior) and a BSA in Chemistry from the University of Texas at Austin. As an undergraduate, she investigated the spatial distribution of bacteria within the guts of bumblebees and the gut microbiota of the Mexican honey wasp. In the Vannette Lab, she aims to study bee-microbe-plant interactions and how those interactions affect bumblebee behavior.
Danielle Rutkowski, PhD Candidate in the Entomology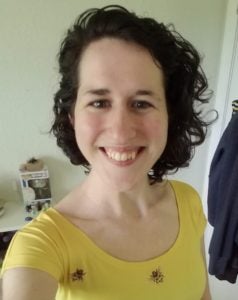 Graduate Group
Email: dmrutkowski 'at' ucdavis 'dot' edu
Co-advised with Rick Karban
Danielle is an entomology PhD student interested in the relationships between bees and microbes. She completed her bachelor's degree at Cornell University, where she studied how the relationship between mycorrhizal fungi and their host plants impacts insect herbivores. At UC Davis, she studies how bumble bees interact with the microbes, particularly fungi, in their environment, and how these relationships impact bee health.
Dino Sbardellati, PhD Student in the Microbiology Graduate Group
email: dlsbardellati 'at' ucdavis 'dot' edu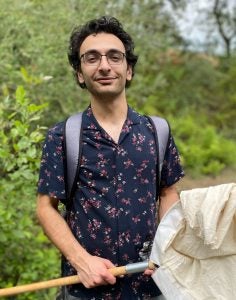 Dino is a microbiologist interested in understanding how microbial ecology shapes macroscale ecology. He received a BA in biology from Sonoma State University and an MS in Bacteriology from the University of Wisconsin Madison. Dino has worked on projects exploring how reintroduced Tule elk modulate terrestrial arthropod populations, how antibiotic treatment impacts gut microbial communities in Passalid beetles, and how diet effects bovine rumen microbial communities. In the Vannette lab, Dino's work deals with studying the bacteriophage (viruses which target bacteria) communities associated with the bumble bee gut and how phages shape gut microbial communities. In his spare time Dino enjoys catching, pinning, and drawing insects, cooking pizza, and making art.
Post-Baccalaureate
Leta Landucci, Jr. Specialist
Leta is a biochemist inspired by chemical ecology, broadly interested in exploring chemically mediated plant-insect-microbe interactions. Leta obtained a BS from the University of Wisconsin-Madison in Biochemistry, where she studied poplar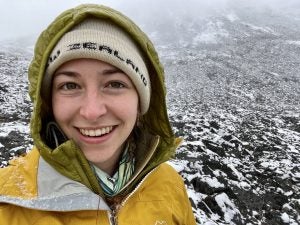 acyltransferase enzymes involved in the biosynthesis of the crucial plant polymer, suberin. She also did research on the dynamic between physical and chemical plant traits and Japanese beetle herbivore behavior. As a member of the Vannette lab, Leta is studying how the production of peroxides secreted by nectarin proteins in floral nectar shapes microbial growth in nectar. She also aims to understand how this chemistry varies across plant species and influences pollinator-plant-microbe interactions. Leta was a NSF Postbaccalaureate Research Trainee in the lab from Sept 2022-Sept 2023.
Undergraduates in the lab
Helen Noroian: Helen is working with Lexie and Rachel on projects related to bee-microbe interactions and microbial community assembly in nectar.
Amy Hazemoto: Amy is working with Danielle on projects related to bee-microbial interactions and fungicide effects on bee-associated yeasts.
Lab photos: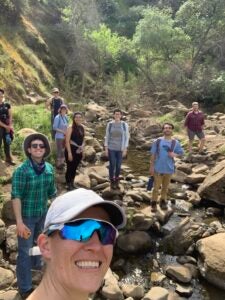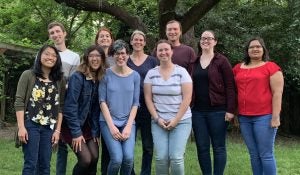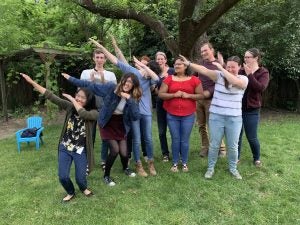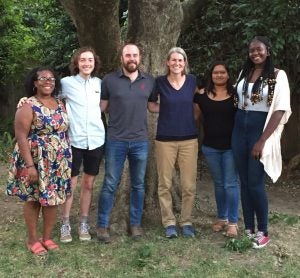 Partial lab group, summer 2018
(L to R: Allie Igwe, Ash Zemenick, Robert Schaeffer, Rachel Vannette, Honey Pathak and Imade Ojo)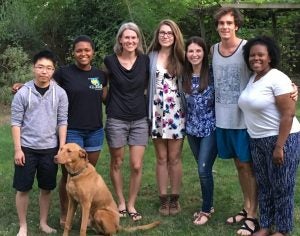 Lab photo, Summer 2016
(L to R: Tim Rei, Chela Owens, Rachel Vannette, Ariana Nagainis, Megan Morris, Griffin Hall and Allie Igwe)
Youngest (honorary) lab members:
Sterling Vannette (2013-present) and Corwin Vannette (2017-present)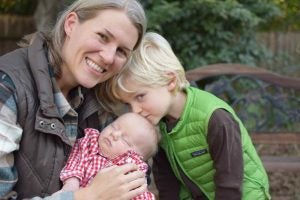 Previous affiliates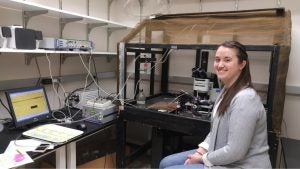 Amber Crowley-Gall, USDA Postdoctoral Fellow  2019-2023; 2023-current Assistant Professor at Iowa State University
Amber is a chemical ecologist with an interest in understanding the role of sensory systems in insect host choice. Her work at UC Davis focused on microbial competition dynamics involving orchard pathogens and mVOC effects on insect behavior.
M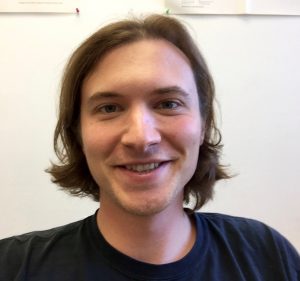 arshall McMunn, NSF Postdoctoral Fellow; 2018-2020; USDA Postdoctoral Fellow 2020-2022
Marshall studied turtle ants and sunflower microbes (among other things) during his postdoctoral studies in the Vannette lab. He now applies his statistical and coding expertise at the California Department of Justice.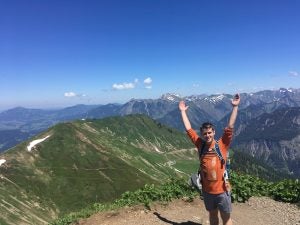 Tobias Mueller, Junior specialist (2019-2021).
2021-current: Graduate student at Cornell Entomology, recipient of NSF GRFP
Alexandria Igwe,  PhD  Microbiology Graduate Group (2020)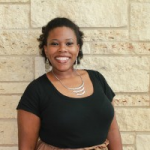 2015-2020: PhD student in the Microbiology Graduate Group
2020-current: NSF Postdoctoral Fellow with Michelle Afkhami at the University of Miami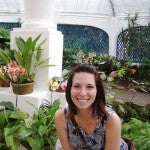 Megan Morris,  JDPE student from Liz Dinsdale's lab at San Diego State University Vannette lab 2015-2016
2018-2020: Postdoc at Stanford University
2020-current: Postdoc at Lawrence Berkeley National Lab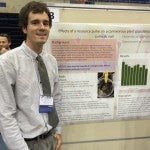 Griffin Hall, junior specialist  2015-2017
Bachelor's degree, UC Davis, 2015
Current: Plant Materials Manager & Assistant Breeder at Frinj coffee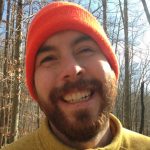 Robert Schaeffer, USDA ELI Postdoctoral Fellow 2016-2018
Assistant Professor at Utah State University
co-advised by R. Vannette, D. Crowder, N. Williams and T. Fukami
Ivan Munkres, junior specialist 2018-2019

Bachelor's degree UC Davis 2018
2021-current, Graduate student at College of William and Mary
Casie Lee, 2017 STAR (Students Training in Advanced Research) Program student.
UC Davis School of Veterinary Medicine, DVM Candidate, Class of 2020, co-advised with Lisa Tell.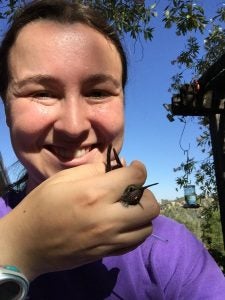 Rachel Dutch, Master's student in Avian Sciences, co-advised by Lisa Tell.
Madeline Handy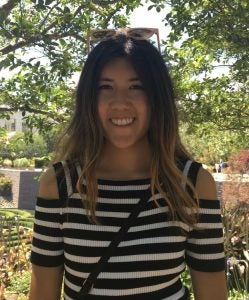 Madeline (Maddie) Handy joined the Vannette Lab as part of the Research Scholars Program in Insect Biology. In the Vannette lab, Maddie's research focused on the Carpenter bee microbiome. She is now pursuing a master's in public health.
Previous undergraduate researchers in the Vannette lab:

Ariana Nagainis (Spring 2016-Fall 2016)
Chela Owens (Spring 2016)
Tim Rei (2016-2017)
Wendy Melendez (2016-2017)
Cody Kiniry (2017-2018)
Anthony Chan (2017-2018)
John Duque (2017-2018)
Isabelle Maalouf (2017-2019)
Honey Pathak (2017-2019)
Eliza Litsey (2018-2019)
Garrett Keating (2018-2020)
Dani Virdier (2019)
Jeselle-Ann Laxa (2019-2020)
Gigi Melone (2020)
Robert Montoya (summer 2021, EEREC REU)
Michael Yu (summer 2021, EEREC REU)
Douglas Perry (2020-2021)
Kt Lynch: (2021-2023)
Anoushka Basu: (2022-2023)
Sriram Srinivas: (2022-2023)
High School Student Affiliates
Almas Khan (2018-2019)